National Cadet Corps (N.C.C)
An N.C.C. Unit of Senior Division Army wing is functioning in the Institution. It functions with a view to develop leadership qualities, commandership, spirit of sportsmanship and the ideal of service among the students.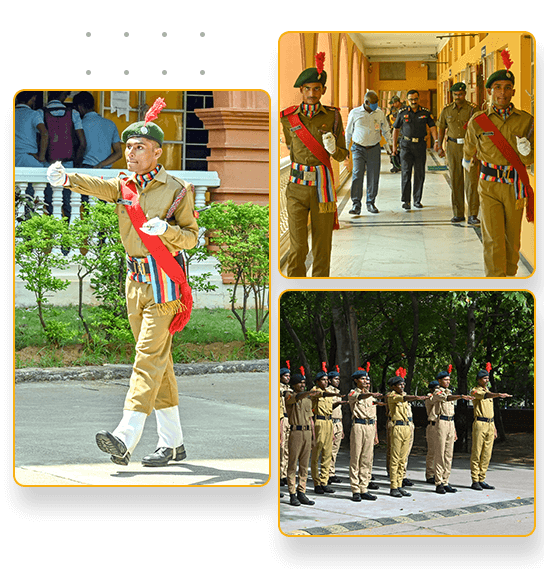 NCC activities:
The following NCC activities are carried out during the academic year (2022-2023) as per the approval of the NCC / Management authorities
NCC ACTIVITIES 8-25-22
Hav Jayakumar Conducted drill class to our NCC students.
INDEPENDENCE DAY CELEBRATION 32-8-22 – Independence day was celebrated in our campus
Dr.J.AMOS ROBERT JEYACHANDRAN (Principal-EPTC)
Hoisted the Flag and addressed the gathering. Special Guest. Dr K.INDRA Principal QUANTA" School of software Engineering addressed the gathering
NCC Contingents Drill and Independence day OATH
Flag distribution to the staffs
Oration by students
Vaishal malu- II CT , Syed Irfan -II CT , Kuberaeshwaran -II EEE
Vote of thanks-VP.
NCC ACTIVITIES -25-8-22
Lt D.MUTHUKUMARAN HOD/EEE Attended ANOs Conference today at 6 TN
BN NCC , Chidambaram.
NCC ACTIVITIES 26-8-22
Subedar Balbir Singh and Havildar Sukvindar Singh PI from 6 TN BN NCC,
Chidambaram.Conducted Map reading class and drill for our NCC students in our campus.
NCC ACTIVITIES 30. 8.22
A Presentation was given to our 1st year students on NCC by the ANO Lt D.Muthu Kumaran.
NCC ACTIVITIES - 31.9.22
NCC 1st Year Enrollment. PI Staff from 6 TN BN NCC selected the new cadets.
NCC ACTIVITIES 31.9.22
Drill Class was conducted for II and III Year Senior Cadets.
NCC ACTIVITIES 25.9.22
2 of our NCC Cadets attended AP Trekking camp from 18.9.22 to 25.9.22 for (8 days) in TIRUPATI.
NCC ACTIVITIES 27.9.22
NCC Training was given to the senior cadets of our college.
National Cadet Corps Gallery
We are Validating and Uploading your Data.

Please Wait...